(STARTING APRIL 2020)COMPLIANCE TO THE REVISED ACT
ANNOUNCEMENT: COMPLIANCE TO THE REVISED ACT(LAW) ON THE PREVENTION OF CRIMINAL PROCEEDS

In compliance to the revised "Act on Prevention of Criminal Proceeds", to those who will send the application form of Western Union International Money Transfer Service, with regards to the identification documents provided, starting April 2020 there will be a change in the way we will accept submitted documents, as follows:

https://bit.ly/3daCKKH


APPLICABLE TO:

Internet/Web application form, as well as application forms sent by mail.

WHAT WILL CHANGE:

In accordance to the "Act on Prevention of Criminal Proceeds", to provide a stricter measure for checking the identification of the applicant, the applicant will have to submit extra documents.

WHEN IT WILL TAKE EFFECT:

Starting April 2020


(FOR FOREIGN RESIDENT APPLICANTS)

You need to submit 2 documents:

RESIDENCE CARD + 1 of the documents listed in DOCUMENT B LIST

1.RESIDENCE CARD(frontside and backside copy)

     +

DOCUMENT B LIST (copy only)
1.Japanese Driver's License/Nihon Unten Menkyoshou (frontside and backside copy)
2.Citizen Identifcation Card/Juumin Kihonn Daichou Kaado or Juuki Kaado (frontside and backside copy)
3.MyNumber Card/Kojin Bangou Kaado (frontside and backside copy)
4.National Tax/Kokuzei, or Local Tax/Chihouzei, or Car Tax/Jidoushazei Certificates (issued within 6 months)
5.Residence Certificate/Juuminhyou、or Record of Deletion of Residence Certificate/Johyou (issued within 6 months)
6.Seal Certificate/Inkan Shoumeishou (issued within 6 months)


(FOR JAPANESE APPLICANTS)

You need to submit 2 documents:

2 documents listed in DOCUMENT A LIST, or alternatively 1 document from DOCUMENT A LIST + 1 document from DOCUMENT B LIST

DOCUMENT A LIST (copy only)

1.Japanese Driver's License/Nihon Unten Menkyoshou (frontside and backside copy)
2.Passport/Pasupooto (with written address at the inside of the back cover page)
3.Health Insurance/Kenkou Hokenshou
4.Citizen Identifcation Card/Juumin Kihonn Daichou Kaado or Juuki Kaado (frontside and backside copy)
5.MyNumber Card/Kojin Bangou Kaado (frontside and backside copy)
6.Certificate of Physical Disability/Shintai Shougaisha Techou

     +

DOCUMENT B LIST (copy only)

1.National Tax/Kokuzei, or Local Tax/Chihouzei, or Car Tax/Jidoushazei Certificates (issued within 6 months)
2.Residence Certificate/Juuminhyou、or Record of Deletion of Residence Certificate/Johyou (issued within 6 months)
3.Seal Certificate/Inkan Shoumeishou (issued within 6 months)



Notice of Maintenance (February 19 2020)
We will undergo system maintenance as specified below.
During the maintenance, the Western Union International Money Transfer Service via Convenience Store will be unavailable.
We apologize for any inconvenience caused and appreciate your understanding.

【Scheduled date and time】 February 19 2020, from 2:00 to 6:00

Login on the website as well as the "simulation of the amount of money received/amount of money transferred" cannot be done.

====

The maintenance operations have been concluded.
Services are now available for use.

We apologize for the inconvenience and we look forward to your continued patronage of our services.

CAMPAIGN ANNOUNCEMENT:OTOSHI DAMA CAMPAIGN!
OTOSHI DAMA CAMPAIGN!

¥10,000 will be awarded to 100 lucky customers in this raffle draw (for a total of ¥1 Million), as follows:

•¥10,000 --- 100 Lucky Winners

Campaign Period is from January 1 to 31, 2020.

Only customers who sent money during the campaign period shall win.

The prize money will be sent by postal money order. Please update your mailing address with us.

At the end of the campaign, all winners' photos and names will be posted in our Facebook Page (wu-cvs).

For more details:
• CUSTOMER SUPPORT CENTER: 0120-3630-44 (free-dial, 9 AM to 10 PM everyday)
• FACEBOOK PAGE: wu-cvs

 次へ 全66件中 1-3件 1/22頁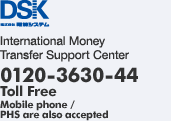 9:00-22:00, everyday
Supported languages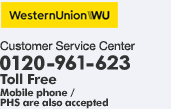 9:00-22:00, everyday